Tag Archive for '2008'

Warren Buffett – Schwarzenegger & Warren Buffet Discuss The Economy At The 2008 Women's Conference

from Schwarzenegger & Warren Buffet Discuss The Economy At The 2008 Women's Conference – Single

Price: USD -1
View Details about Warren Buffett
Chapter Excerpt from Of Permanent Value: The Story of Warren Buffett / 2008 Cosmic Edition by Andy Kilpatrick – Highlights from the Berkshire Hathaway Annual Meetings












BIRMINGHAM, Ala. (PRWEB) April 24, 2008
    Cosmic Sitcom
At 8:30 on the morning of each annual meeting, the company movie is shown –a collection of highlights and comedy routines and the latest commercials for company products. The film, updated every year, may open with Buffett strumming a ukulele, singing a welcoming song to the tune of "I'd Like to Buy the World a Coke." "When NASDAQ's down, you'll never frown. Berkshire's here to stay," he sings.
The sitcom once included a cartoon featuring the Oracle of Omaha as Agent 008 battling the terrorist Has Been Rotten. The Oracle prevails by firing exploding Berkshire products.
The premeeting video featured skits of Buffett in various soap opera and Omaha Press Club appearances. One segment has a takeoff of "The Graduate" where Dustin Hoffman is told, "The future is in plastics." In this video, the word "plastics" was substituted with "GEICO."
One clip in the 1997 video showed Washington Post's Katharine Graham complaining that Berkshire-related businesses were so cheap they didn't offer dental programs until you were 90 and that she was being forced to continue working and had decided on a discount furniture business: "Mrs. G's." Her talk was accompanied by an ad: "Mrs. G's blowout discount on furniture."
One popular segment over the years has featured Buffett and Gates appearing before Judge Judy to sort out a fuss over a bridge game. When Gates argues his side, Judge Judy tells him to go to "shutup.com" and orders Gates to give Buffett a break so he can amount to something.
Other clips showed joking tributes from Bill Gates and Tom Brokaw, or even highlights of Nebraska's greatest football plays. In 2007, the skit was a sequence of shots of Buffett and LeBron James making impossible shots on a basketball court with Buffet making a final full court swish to defeat James.
For several years, the low-budget movie was created by Berkshire's Treasurer Marc Hamburg. Now Buffett's daughter, Susie, heads the effort. The video is not given out because of possible copyright issues. Susie Buffett has said, "It's one thing to get permission to use things that are in one item that never gets distributed. It's one entirely different thing if we start selling copies."
The movie now includes cameos from celebrities like Tiger Woods (with Buffett as his caddy), Bono during a photo shoot with Bill and Melinda Gates as Persons of the Year for Time magazine, Jimmy Buffett, Jamie Lee Curtis, and Governor Arnold Schwarzenegger.
The 2006 movie was a great hit; based on "American Idol," it was called "Omaha Idol," if you will. The three idol judges were Buffett, Munger, and Mrs. See.
The cartoon portion of the movie was created (for free) by Andy Heyward, CEO of DIC Entertainment of Burbank, California. The cartoons, which open the film, have included "Omaha Idol" and spoofs on Batman and Robin, James Bond, and Survivor.
One skit spoofed Bill Gates' Windows product, as an actual window.
Arnold Schwarzenegger was made fun of for his new voting machine that allowed votes only for him. At one point, Arnold held up two books; one about him and one about Buffett, saying, "mine is bigger." Then he turned the book about Buffett sideways for viewers to see it was an earlier version of this book. Arnold then proclaimed, "Yours is thicker."
Donald Trump and Snoop Dogg were lampooned.
One clip featured Buffett and Munger with Dick Cheney, who was dressed as Elmer Fudd. Buffett said, "Hunting with Dick Cheney? Then you need insurance now!" Cheney then shot Munger in the rear, and Munger said, "Any closer shave would have to be by Gillette!"
A See's Candy clip featured Ellen DeGeneres getting factory workers to look away while she stuffed candy down her dress.
Another skit involved Buffett suddenly falling in love with hi-tech stocks but having difficulty persuading Munger about the idea. So Buffett called Jamie Lee Curtis, who was lying suggestively in bed, and asked her if she'd call Munger, a fan of hers.
Munger took a call from Curtis asking, "Is this really Jamie Lee Curtis?" She replied, "Is this really Mr. Hunger, I mean Munger?" Munger promised he'd speak to Buffett about the hi-tech stocks.
A skit with Tiger Woods showed Tiger having trouble with a shot and Buffett suggesting to him that he was "putting too much arm into it." Woods then hit a perfect shot and declared Buffett his new coach.
A "Desperate Housewives" skit featured the actual actresses discussing the sexual prowess of old men. When the movie ended, Buffett and Munger walked on stage to huge applause. Then, like a bolt from the blue, Buffett said, "I'm Warren. He's Charlie. You may wonder why Charlie gets the girls (Jamie Lee Curtis) in these things. It has to do with what I call the Anna Nicole Smith rule. When choosing between two old, rich guys, pick the older."
Woodstock was underway.
©Copyright 1997-
, Vocus PRW Holdings, LLC.
Vocus, PRWeb, and Publicity Wire are trademarks or registered trademarks of Vocus, Inc. or Vocus PRW Holdings, LLC.
Reputation Institute Announces 2008 Most Admired U.S. CEOs











New York, New York (PRWEB) October 22, 2008
We are experiencing a national and global shortage of trust in America's leaders. This lack of trust is reflected in the tarnished reputations of Corporate America, the U.S. government and, ultimately, our failing financial systems. But, as shown by a recent finding from Reputation Institute reputations of leaders, and their organizations, can be strengthened through a strategic combination of heartfelt actions and communication.
A new study by Reputation Institute names Microsoft's Bill Gates as the most admired U.S. CEO, with 35% of the U.S. General Public viewing him as the leader they admire most. The 2008 Most Admired CEO Study asked over 7,450 American consumers to name up to three CEO's in the U.S. that they admire most. In addition to Microsoft's Bill Gates, real estate tycoon Donald Trump and Warren E. Buffett of Berkshire Hathaway are the three most respected leaders in the U.S. while Chair and CEO of Harpo Productions Oprah Winfrey and Apple's Steve Jobs round out the top five.
"Being seen as a visionary leader who can deliver strong results on the bottom line at the same time as being a good corporate citizen is what the US general public admires," said Reputation Institute Managing Partner, Kasper Nielsen. "Leaders who link their philanthropic involvement to the core business purpose of their organization are creating the highest level of respect and admiration" he added.
According to Reputation Institute research, the reputation of an entire corporation is built on seven dimensions: products & services, innovation, workplace, governance, citizenship, performance, and leadership. Those final three – citizenship, performance and leadership – have the strongest tie to CEOs. Gates, Buffett and Winfrey each have very visible commitments to philanthropic endeavors. Gates, Trump and Jobs are respected because they have lead their companies to strong financial performance, and all the top five are savvy managers. Though not essential, a strong CEO with these characteristics supports a company's overall reputation strategy and ultimately its bottom line.
After the top five, the next admired corporate leaders include former Chrysler Corporation CEO Lee Iacocca, the late Sam Walton of Wal-Mart, Martha Stewart CEO of Martha Stewart Living Omnimedia as well as former CEOs and presidential nominees Ross Perot (Electronic Data Systems) and Mitt Romney (Bain & Co.).
Top 10 Most Admired CEO's
1 Bill Gates

2 Donald Trump

3 Warren Buffett

4 Oprah Winfrey

5 Steve Jobs

6 Lee (Lido) Iacocca

7 Sam Walton

8 Martha Stewart

9 Ross Perot

10 Mitt Romney
CEO Ratings v. Company Ratings
Leadership: The "Most Admired CEO" status of Bill Gates and Warren Buffett parallels the high Global Pulse 2008 rankings in leadership received by Microsoft and Berkshire Hathaway, rated fourth and fifth highest in the United States, respectively. Apple's Global Pulse 2008 leadership ranking just made the top 15, but the company's charismatic CEO Steve Jobs was among the top five CEOs on his own right. His high profile, specifically around product launches, grants him familiarity with U.S. consumers. The top there companies in the Leadership dimension of the 2008 Global Pulse are Johnson & Johnson, Google and Disney.
Citizenship: Despite large sums of money donated by Bill Gates and Warren Buffett, their respective companies failed to make the top five in the Global Pulse 2008 corporate Citizenship ranking. Berkshire Hathaway came in seventh for Citizenship among U.S. companies and Microsoft ninth. The top 3 ranked companies in Citizenship are Google, Johnson & Johnson and Disney.
Performance: The CEO is often dubbed the face of a company and shoulders responsibility to garner shareholder support. Respected CEOs Gates, Buffett and Jobs have supported their companies to the 2nd, 5th and 9th place positions in the Performance dimension of the 2008 Global Pulse. Trump and Winfrey's companies are not large enough to be included in the study. The 1st and 3rd ranking companies in the Performance dimension are Google and Walt Disney.
Interesting to note, Google ranked number one among US companies in Performance and Citizenship and number two in Leadership, but very few Americans mentioned CEO Eric Schmidt by name. Though, if the people who nominated "whoever owns Google" had mentioned Schmidt specifically, he would have been among the top 15 most admired US CEOs. A visibly strong CEO may help bolster a company's leadership and performance scores, but one is not necessary to communicate strength.
Survey Methodology
The 2008 Most Admired CEO Study asked over 7,450 American consumers to name up to three CEO's in the U.S. that they admire most. CEOs were ranked according to number of mentions in response to the question "Please name up to three CEO's in the United States that you admire most." Spelling irregularities and nicknames were standardized. The data was collected between February and March 2008 during fielding for Reputation Institute's annual Global Pulse Study, a study of the reputations of the largest 600 companies in 27 countries, including the 150 largest U.S. companies.
About Reputation Institute
Reputation Institute is a private advisory firm specialized in corporate reputation management. Through a network of offices and associates in more than 20 countries, Reputation Institute provides knowledge-based consulting services to some of the most respected companies worldwide. Our consulting teams regularly help these global clients assess, value and act on their reputations by providing strategic analysis and direction, as well as helping them to develop and implement cutting-edge reputation measurement and management systems.
Reputation Institute also identifies best practices from original research conducted around the world, and we share our cutting-edge findings with a wide network of clients and members through engagements, seminars, conferences, and publications such as Corporate Reputation Review. The Global Pulse is Reputation Institute's flagship research study conducted annually with some 60,000 consumers in 27 countries from which emerge a set of detailed reputation ratings and rankings of 1000 of the world's largest companies. Each year, the results of this groundbreaking study get featured in leading business publications around the world.
Visit http://www.reputationInstitute.com to learn more about how you can create value from your reputation.
# # #






Attachments
















©Copyright 1997-
, Vocus PRW Holdings, LLC.
Vocus, PRWeb, and Publicity Wire are trademarks or registered trademarks of Vocus, Inc. or Vocus PRW Holdings, LLC.

Arnold Schwarzenegger & Warren Buffett – Schwarzenegger Discusses the Economy With Warren Buffett [2008 Women's Conference]

from Schwarzenegger Discusses the Economy With Warren Buffett [2008 Women's Conference]

Price: USD -1
View Details about Arnold Schwarzenegger & Warren Buffett
Charlie Rose (October 1, 2008)This product is manufactured on demand using DVD-R recordable media. Amazon.com's standard return policy will apply.
List Price: $ 24.95
Price: $ 20.96
Related Warren Buffett Products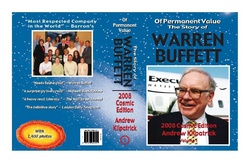 BIRMINGHAM, Ala. (PRWEB) April 15, 2008
    Generics – Business School in an electrifying Two Minutes
The Berkshire Annual Meeting in 1993 occurred just weeks after "Marlboro Friday" when retail prices of Marlboro cigarettes came tumbling down to compete with "generic" brand cigarettes. Brand managers as well as their ad agencies were shaken badly and many businessmen were wrestling with the question of just how many inroads generic brands were making on the long-standing, famous brand names.
Sitting before a crowd of more than 2,000 people, with no notes, no aides, and no idea a question about generics was coming, Warren Buffett stunned the audience with his mastery of the business scene.
Here's how, over a couple of minutes, Buffett answered the question:
"Will developments in the generic brand area hurt Coca-Cola? That's a terribly important question.
"Generic brands have been with us a long time. But lately they've attracted a great deal of attention–partly because they're doing better and in particular because of Philip Morris's actions a few weeks ago–when, in reaction to the threat and the inroads of generics, they cut the price dramatically on Marlboro.
"I wouldn't say Marlboro is the most valuable brand name in the world. Coca-Cola is more valuable–and I think that's been proven by subsequent events. But Marlboro earned more money than any brand name in the world.
"And all of a sudden, Philip Morris took some actions which dramatically reduced the earnings of that brand and changed the pricing dynamic that had existed in the cigarette business for many decades. And since then, Philip Morris has had $ 16 billion lopped off its market value and RJR's suffered accordingly.
"It's a terribly interesting case study and it illustrates one of the dangers of generic competition. Philip Morris cigarettes got to where they were selling for $ 2.00 a pack. The average cigarette consumer uses something close to ten packs a week. Meanwhile, the generic was at about $ 1 or thereabouts. So you really have a $ 500 a year differential in cost per year to a ten-pack-a-week smoker. And that is a big annual cost differential. You better have something that people think is dramatically better than the generic for the average consumer to shell out an extra $ 500 a year. It's happening in other areas, too–whether it's corn flakes or diapers or a lot of things…
"In our case, I think the Gillette brand name, for example, is far better protected against generic competition than the main product of Philip Morris–although there always has been generic competition in blades and there always will be.
"The average male purchases something like 30 blades a year. He pays 70 cents each if he buys the best–which is the Sensor. That's $ 21 a year. The best he can do if he wants something that leaves him Band-Aids on his face and an uncomfortable experience costs him $ 10 a year. So you're talking $ 11 for a 365-day experience…
"I think there's a generic threat of some sort in any industry where the leaders are earning high returns on equity. It just stands to reason that that's going to encourage competition.
"And the threat may be accelerating in many industries. But I think that brand names with the right ingredients are enormously valuable. Sometimes infrastructure is a problem for the generics. The worldwide infrastructure for Coca-Cola, for example, is very impressive and very hard for a generic provider to duplicate.
"But if somebody wants to sell a generic box of chocolates in California against See's Chocolates, that's obviously somewhat of a threat. And I just hope that they take them home on Valentine's Day and say, 'Here, Honey, I took the low bid.' "
Then Buffett addressed the question of Coca-Cola point blank:
"Wal-Mart's selling Sam's Cola. And Wal-Mart is a very, very potent force. One thing that's helpful is that they were selling it as cheap as $ 4 a case here. And I don't believe that's sustainable. That's 162/3 cents a can.
"It's been a while since I looked at aluminum–and it's down. But I think the can is close to a six-cent item by itself. The can is far more expensive than the ingredients… Distribution costs, trucking, stocking and all that sort of thing have to be fairly similar. In a 12-ounce can, there's 1.3 ounces of sugar–which at the domestic price, would be around 13/4 cents per can. And that's got to be the same whether it's Sam's Cola or Coca-Cola.
"The Coca-Cola Company sells about 700 million 8-ounce servings–largely of Coca-Cola, but also of other soft drinks–worldwide every day. If you take 700 million and multiply it by 365 days, you come up with 250 billion or so 8-ounce servings of Coke or its products in the world each year.
"The Coca-Cola Company made about $ 21/2 billion pretax last year. That's one penny per serving. One penny per serving does not leave a huge umbrella. The generic is not going to buy the can any cheaper. And they're not going to buy the sugar any cheaper and so on. Their trucks aren't going to be any cheaper."
Buffett, in an electrifying two minutes, just took you through business school. "Better than business school, awesome," says shareholder Michael Assael. "Buffett's the best professor ever."
A Ph.D. in Global Economics in One Minute
In an interview (CNBC, September 7, 2007), Becky Quick asked Buffett about the effects of an $ 80 oil price. Just winging it, Buffett replied: "Anything that you import, and we import maybe 11 million barrels a day of oil, so everytime it goes up a dollar that's $ 11 million that goes out of the American economy and goes to somebody else around the world. And so, it's a tax on… in effect, a higher oil price is a tax on the American economy. And that tax is not paid to the American government, it's paid to various entities around the world. So, it's always a negative. But, I'll take a negative. We had higher prices than this adjusted (for inflation) 25 years ago. So, the economy can take it but it is a tax, and it comes right out of the American consumer's pocket and goes into the purchasing power of somebody in the Middle East."
Perhaps Becky was stunned. She didn't ask another question after that one.
For more information
This book can be purchased on Amazon.com by clicking here. Other press releases about this book can be viewed through the following links. For a general book description please see this release and for an excerpt from the opening chapter of the book please follow this link.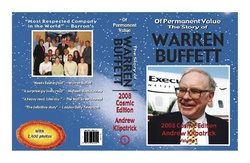 BIRMINGHAM, Ala. (PRWEB) April 30, 2008
    At 7 a.m. sharp each Monday, Wednesday, and Friday, Buffett's fitness trainer arrives at his house, enters the large family room downstairs and coaches Buffett through a series of exercises lasting 45 minutes.
"He's always on time," says Michelle Streif, Buffett's trainer. "He has his weight gloves on, ready to go."
About three years ago, Buffett's doctor told him that although he was in good health, he needed either to change his diet or get more exercise. Buffett has joked that he'll never give up hamburgers and Cokes so he opted instead for an exercise regime.
As for a fitness trainer, the doctor recommended the six-footer Michelle Streif, a married 41-year-old who has a lengthy background in sports and dance and degrees in physical fitness. With an undergraduate degree from Iowa State University and a master's degree in health education/gerontology from the University of Nebraska-Omaha, Michelle has been in the fitness industry for 22 years. She runs Well Bound Health & Fitness in Omaha.
When they started the workouts, Buffett told her to order whatever equipment would be needed but he ended up spending only about $ 200 "on the basics," Michelle says. A body wedge, a stability ball, foam rollers, various resistance bands, a medicine ball, and a training table were purchased.
Buffett walks on a treadmill, even the weekdays between training sessions, and lifts weights, but Michelle also works with him on strength, balance, flexibility, and stamina. "Sometimes I can even sneak in some Pilates or Yoga moves. He always seems motivated by a challenge," she says.
Although Buffett exercises with great energy, he doesn't have a natural love for doing it. "He doesn't really enjoy it, but he's very focused and competitive and never complains when we do more," says Michelle. "He gives it 100%."
Have these workouts improved his strength, stamina, and shape? "With dumbbells, he's gone from 7 to 10 pounds up to 25 pounds in each hand," says Michelle. "He does many pushups and some sit-ups and has increased amazingly in those (sit-ups)." He can do 50 or more sit-ups. (Maybe Arnold did get to Buffett when he threatened that he'd have to do 500 sit-ups if he mentioned taxes in California again.) "He's amazing," Michelle says. "He's in better shape than most 30-year-olds." Buffett has even had some suits taken in.
What else goes on during the exercise sessions? TV watching and limited talking are the diversion activities. While working out, Buffett watches TV–usually CNBC's "Squawk Box" or a "Charlie Rose Show." On the other hand, Michelle admits to being a talker, but she says, "I try to hold my talking to the commercials." She talks with him about sports and Husker football. But otherwise, she said, he's very focused with what's on TV.
"When something has his attention on TV, I've told him I could be topless and he wouldn't notice. He's incredibly focused."
Are you seeing the obvious? Buffett is a very focused person in all he does. "He's thinking, 'I have things to do, and I'm not giving in.'"
Michelle thinks Buffett has many healthy years ahead of him. "Most people his age are on six or seven medications." Buffett is on no medications, and abhors the thought of any medication, says Michelle.
Everyone knows what Buffett eats for lunch and dinner, and his doctor does not speak highly of that intake. So what does Buffett eat in the morning? "After the workout, he'll have a Coke or a Cherry Coke and, occasionally, a banana," according to Michelle.
Go figure!
Related Warren Buffett Press Releases

Native Americans on the Klamath River fight for the survival of their fish and their culture — against an energy corporation. Their struggle may trigger the largest dam removal project in history.

"Introduction to Value Investing"

Keynote: Alice Schroeder, author of "The Snowball: Warren Buffett and the Business of Life". Introductory remarks by John Macfarlane.