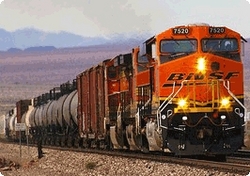 Albuquerque, NM (PRWEB) November 5, 2009
Greg Roy, the investor who generated 2,862% returns during the crash of 2008, writes, "Warren Buffett's $ 44 Billion deal to buy Burlington Northern Santa Fe railroad is a bet on better profits NOT a better future for America."
According to Roy, Buffett has been preoccupied with inflation this year, stating clearly that the government's actions "certainly sows the seeds of substantial inflation. We're flooding the system with dollars. We're monetizing debt. We're doing all the things that lead to that (inflation)."
And publishing an op-ed piece urging congress to fight inflation at the same time he explains why they lack the political will to do so.
Now Buffett buys Burlington, which he states outright is a hedge against inflation. "I'd be more worried holding cash… The one thing about those unprecedented after effects is they're going to be very bad for cash. I would much rather own working assets than have cash in a period that could become inflationary down the road."
As Roy explains it, a $ 44 billion inflation hedge is anything but a sign of rosy prospects for America's future. Maybe billionaire Buffett doesn't remember that in the Great Inflation of the 1970s seniors were eating cat food because they could no longer afford groceries, but the rest of us do.
In fact, Roy believes much worse things are to come for the economy and Buffett is simply positioning himself to get maximum gains in the face of the long-term destruction of the U.S. dollar.
"Warren is a public relations virtuoso who can make people believe almost anything about the economy but it's just too much to believe that a $ 44 billion inflation-hedge signals a vote for a better future for the average American." Read Full Article
Greg Roy has called almost every major market crash since 1987's Black October, including the financial meltdown of 2008 where he generated 2,862% returns in just four months. He leads an investment group for individual investors called the Wealth Insiders Alliance, where he shares his forecasts and trades.
# # #