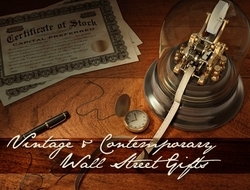 Aurora, CO (PRWEB) May 19, 2010
BullMarketGifts now offers expanded institutional services for the financial community. These custom services are available to the largest wirehouses to local RIAs and independents. With access to a unique selection of over 1000 Wall Street gifts members of the financial industry now also have access to BullMarketGifts' exclusive institutional services including:


    Gift Branding and Personalization
BullMarketGifts can work with financial firms to deliver a branded gift solution. Using the firm's existing logos, mottos, and taglines, BullMarketGifts can incorporate the firm's image and message into a personalized and branded delivery.
    Personalized Shopping and Gift Selection
Firms can send their client lists to BullMarketGifts for personalized shopping. BullMarketGifts can work with a budget and custom select each gift based on the client's interests or even favorite stocks. For instance, if a client is a fan of Warren Buffett, BullMarketGifts may offer a Berkshire Hathaway stock certificate, a framed autographed picture, or even a rare Warren Buffett bobblehead that was only given to shareholders. BullMarketGifts can use the interests of each client to find a perfect gift that exemplifies the financial advisor's personal relationship.
    Custom Shipping and Quantity Discounts
BullMarketGifts can wrap, package, and ship each gift on the firm's client list. BullMarketGifts also offers the ability for advisors to add a personal note or even their latest market commentary to the gift for an even more personal touch. All of this can be done at special rates and quantity discounts that are not available to the general public.
"Advisors build long-lasting relationships with their clients, gifts to them should also reflect that relationship and care. We can help them with this," said Michael Oaklief, BullMarketGifts' President.
###
Related Warren Buffett Press Releases