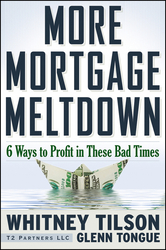 New York (PRWEB) May 20, 2009
T2 Partners LLC today announced the release of More Mortgage Meltdown: 6 Ways to Profit in These Bad Times (Wiley; May 2009; $ 27.95; Hardcover), a new book by leading investors and market analysts Whitney Tilson and Glenn Tongue, managing partners of the T2 Partners hedge funds and Tilson Mutual Funds. The collapse of the U.S. housing market is the defining economic event of the last 75 years, yet for many it is still a mystery. What happened, and why? Where are we today, and what does the future hold? This invaluable guide not only offers clear answers to these questions but also teaches investors how to look for value in today's – and tomorrow's – financial environment.
Since the market peaked in late 2007, Tilson and Tongue have written and spoken widely about the looming financial crisis, including a keynote presentation in May 2008 at the Value Investing Congress, a leading investing conference co-founded by Tilson. Their prescient analysis quickly gained the attention of investors, analysts and the news media. More Mortgage Meltdown is a product of their foresight and prepares investors for the next stages of the housing crisis.
"The collapse of the U.S. housing market triggered the worldwide credit crunch, which has profoundly affected all of us," said Whitney Tilson. "While the U.S. is taking important steps to work through the problems, losses exceeding $ 1 trillion are yet to come. In spite of this economic headwind that will be with us for many years, however, we believe that there are terrific investing opportunities for those who know where to look."
Added Glenn Tongue, "By applying the proven, timeless principles of value investing – the strategy pioneered by Ben Graham and Warren Buffett – savvy investors can avoid traps and profit from this downturn. Our book is intended to be a go-to resource for every investor, from the casual novice to the surefooted professional."
Tilson and Tongue begin More Mortgage Meltdown by analyzing the U.S. housing market, the causes of the great mortgage bubble, where we are today, and what lies ahead. Through clear, detailed examples, the authors show how the reckless actions of many banks, mortgage companies, and Wall Street firms brought about the current crisis. The second half of More Mortgage Meltdown offers detailed strategies for investors to beat the downturn. With six in-depth investment case studies, including Berkshire Hathaway, American Express and Wells Fargo, Tilson and Tongue illuminate the opportunities and explain how to identify undervalued stocks with competitive advantages in today's market.
"You couldn't ask for better guides than Whitney and Glenn to take you through the tough times," said Joel Greenblatt, managing partner of Gotham Capital and author of the bestselling The Little Book That Beats the Market. "They saw the mortgage meltdown coming and their new book can help you get through it with timely, useful and sage advice."
To learn more or to order copies of the book, visit http://www.moremortgagemeltdown.com.
About the Authors
Whitney Tilson and Glenn Tongue are the Managing Partners of T2 Partners LLC and Tilson Mutual Funds. The former firm manages three value-oriented hedge funds while the latter is comprised of two mutual funds, Tilson Focus Fund and Tilson Dividend Fund.
Mr. Tilson is the co-founder and Chairman of the Value Investing Congress, a biannual investment conference in New York City and Los Angeles. He also co-founded the investment newsletters Value Investor Insight and SuperInvestor Insight. He writes a regular column on value investing for Kiplinger's Personal Finance, has written for the Financial Times, Forbes and TheStreet.com, and was one of the authors of Poor Charlie's Almanac, the definitive book on Berkshire Hathaway Vice Chairman Charlie Munger. He was featured on 60 Minutes in December 2008, appears regularly on CNBC and Bloomberg TV, was one of five investors included in SmartMoney's 2006 Power 30, and was named by Institutional Investor in 2007 as one of its twenty Rising Stars. Tilson received an MBA with high distinction from the Harvard Business School, where he was elected a Baker Scholar, and graduated magna cum laude from Harvard College with a bachelor's degree in government.
Mr. Tongue spent seventeen years on Wall Street prior to joining T2 Partners, most recently as an investment banker at UBS, where he was a managing director specializing in acquisitions and leveraged finance. Before UBS, Mr. Tongue worked at Donaldson, Lufkin & Jenrette for thirteen years, the last three of which he served as the president of NYSE-listed DLJdirect, the consistently top-rated online brokerage firm. Prior to joining DLJdirect, Mr. Tongue was a managing director in the investment bank at DLJ, where he worked on over 100 transactions, aggregating more than $ 40 billion. He received an MBA with distinction from the Wharton School of Business and received a Bachelor of Science in electrical engineering and computer science from Princeton University.
More Mortgage Meltdown:

6 Ways to Profit in These Bad Times

By Whitney Tilson and Glenn Tongue

Wiley; May 2009; $ 27.95; Hardcover

ISBN: 9780470503409
###